5. Four Seasons Tented Camp Golden Triangle, Thailand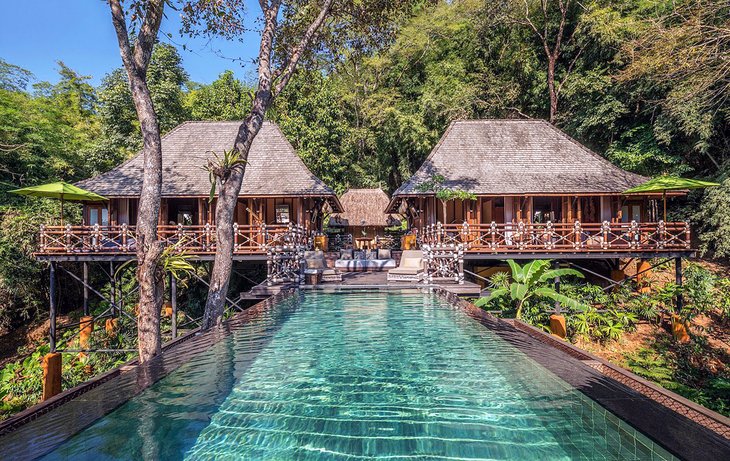 Four Seasons Tented Camp Golden Triangle is a great option if an Asian wilderness trip is your notion of paradise. This camp on the border of Burma and Laos is Four Seasons' first all-inclusive resort and welcomes outdoor enthusiasts and environment lovers.
Think again if you believe that "tents" cannot be luxury. These opulent safari-style tents, which protrude from slopes covered in lush vegetation, have embellishments from Thailand that give them an aristocratic 19th-century atmosphere. Typical amenities include handcrafted furnishings, clawfoot baths, and opulent netting mattresses. The magnificent natural settings are complemented by outdoor showers and rustic textures like bamboo and local hardwoods.
A meal is an experience as well. Take a foraging stroll and gather fresh ingredients from the property's trees, then let the chef prepare a delectable dinner, or enroll in a Thai cooking lesson.
Animal lovers would like this place. You may explore the jungle with rescued elephants and their mahouts or take a boat trip along the Ruak River to search for other species.
You may also learn about culture. You may go on hillside cycling excursions that pass past rice paddies and pineapple plantations, as well as day trips to important temples or the neighboring country of Burma, among other exciting activities.
Would you want to be pampered? The open-sided jungle spa is nestled away in a peaceful bamboo grove, where you may unwind with a mountain botanical massage.
Even though they didn't have to go to Africa, visitors depart with the impression that they had gone on a luxurious safari.