12. North Island, Seychelles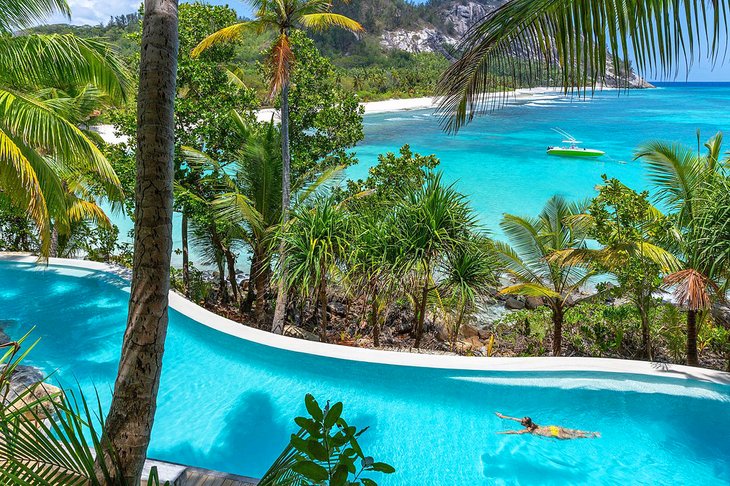 Wanna-be This secluded, back-to-nature eco-resort in the Seychelles is tucked amid towering granitic peaks and is popular with Robinson Crusoe fans. You won't ever feel alone, though, thanks to the abundance of attentive employees here.
The motto of the island is "barefoot luxury," and conservation is important. The owner's goal is to return the island to its original form, and visitors are encouraged to take part in conservation activities and discover this remote island's distinctive nature. Turtles nest on the coastlines of two separate idyllic beaches that you may select from.
The eleven individual open-plan homes were built using materials found on the island that were taken during its continuing rehabilitation. They surround a stunning length of beach lined with coconut trees. The décor, which makes extensive use of natural materials and textural aspects, is best described as sophisticated beachy chic. Netted mattresses, deep soaking tubs, and plunge pools on expansive decks are common features, and doors fold back to allow the outside in.
The ideal honeymoon escape is the luxurious Villa North Island, which is located at the far end of the beach.
With butler service, you may eat anywhere you choose while enjoying the newest island produce to create the cuisine. The main activities include a wide variety of water sports, guided hikes, and trips to neighboring islands, in addition to yoga and holistic therapies like the "barefoot ritual" at the spa. Transport is provided by bicycles and electric golf carts.
With specially designed children's programs that provide pursuits like pizza-making classes and treasure hunts, kids can stay occupied.